Tiger's Obituary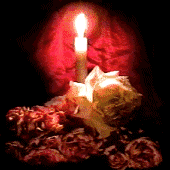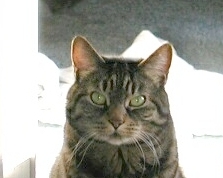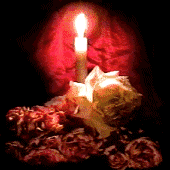 Tiger
February 6, 1991 - October 1, 2005
Middletown---Tiger, age 15, died Saturday, October 1, 2005 at 4:55pm at the Sakonnet Veterinary Hospital in Tiverton from cancer. She was the daughter of the late Precious Hozey.
Born on February 6, 1991 in Portsmouth, Rhode Island she and her brother Bo came to live with their adopted father, Mike on March 27, 1991.
Tiger was an avid bird and squirrel (big mouse) watcher and spent many days with her brother looking out the windows waiting for the birds to come to the feeder and side deck. She was a great napper and always seemed to find that ray of sunshine that was coming into the house to sit in. She and her brother spent countless hours cuddled up on the couch or bed together. Tiger was also one of the greatest bug catchers. She also spent time drinking water from the bathtub.
Even though she was a picky eater, Tiger was very fond of tuna fish, scallops and chicken and had a sweet tooth for doughnuts and cake.
Tiger will be greatly missed by her brother Bo and all those who happened to have met her in her lifetime. Tiger was such a sweet, gentle and lovable companion and friend.
Besides her late mother, Tiger leaves two brothers, Bo of Middletown, Mittens of Newport, her late brother Muffin of Newport who passed away on July 21, 2005 and an unknown calico sister. She also leaves a step-brother Boomer of Newport.
Tiger was cremated on October 3, 2005 at the Robert Potter League Shelter in Middletown and her ashes returned to her step-father. A memorial service for Tiger was held on October 15, 2005.
Here is a front picture of Tiger and Bo's urn and the other one shows the top of their urn.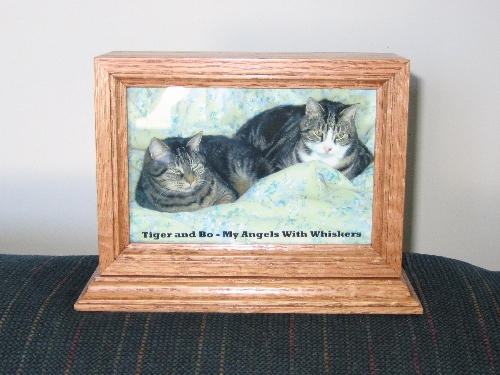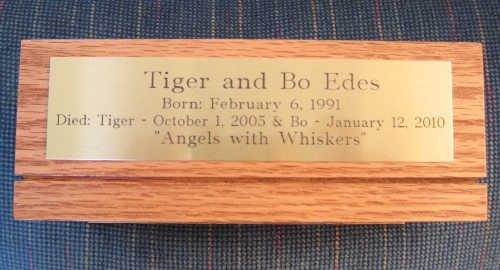 Home
Tiger & Bo Adult Pictures
Tiger & Bo Kitten Pictures
Tiger's Tributes & Condolences
Bo's Tributes & Condolences